CII HAS LAUNCHED
The Indian Women Network[IWN] for Career Women, Professional, Faculty and Students who are ambitious, dynamic and focused women like you !
Chairwoman
Ms Suchitra K. Ella, Chairwoman, CII Indian Women Network (IWN) & Women Empowerment National Committee & Co-Founder & Joint Managing Director, Bharat Biotech International Ltd.
Ms Suchitra K. Ella, co-founded Bharat Biotech International Limited in 1996 along with her husband Krishna Ella after relocating to India from the US. She has more than 10 years of learning, training & working in US corporations specializing in Customer operations, Financial Services, Marketing and Business Development in Retail, banking & real estate sectors. In a span of less than 20 years, Bharat Biotech has grown to become one of India's most Innovative & prominent biotechnology companies, involved in R&D, Clinical Development, Manufacturing & Marketing of Human Vaccines & Bio therapeutics, and has expanded to one of the largest Biotech facilities in the Asia- Pacific region. Vaccines from the facilities in genome valley, Hyderabad are exported to more than 65 counties & all over India.
As Joint Managing Director of Bharat Biotech, her dedication, leadership and organizational capabilities have been a key driver in enabling a sustainable growth path for the company. She strongly believes in out of the box thinking & has lead the company from the grass roots level. BBIL deploys affordable, Indigenous technologies & solutions to address public health care challenges in India & across the developing world. Mrs. Ella's commitment in spearheading innovative projects have lead the company to take up path-breaking research & development projects to deliver affordable world class products for the common man. Mrs. Ella has overseen a wide range of operations in the company ranging from Administration & HR, New Projects, Marketing, Corporate Communications, CSR, corporate strategy & corporate Governance.
Besides her work at Bharat Biotech, Suchitra Ella maneuvers multiple roles in various organizations. She is the Chairperson, United Way Hyderabad (UWH) – an International Charity Partner focused on social empowerment in local communities with focus on Livelihoods, Health & Education. She serves on the Board of United Way of India (UWI). Mrs. Ella contributes to the Board of Indian School of Business, Well Wishers Trust and is also an Executive Committee member of AIKYA at the Indian School of Business. She is the member of the Board of Trustees - Tirumala Tirupati Devasthanams, Andhra Pradesh. She is also on the board of Sri Venkateshwara Bhakti Channel & on the board of SV College, New Delhi.
Mrs. Ella is also the member of CII National Council & Chairperson of Indian Women's Network (IWN) National Council. She is the founding Chairwoman of CII's Indian Women Network, Southern Region and Past Chairperson of CII, Andhra Pradesh. She has served on the Board of the School of Management Studies, University of Hyderabad, in addition to being an Executive Committee member to the SAARC Women Entrepreneurs Council.
A lifetime member of the Red Cross, Suchitra Ella strongly believes in Corporate Citizenship and Corporate Social Responsibility. She is passionate about philanthropy & reaches out to the community by conducting blood donation camps in Genome Valley & Vaccination Camps throughout the country.
She has co-founded two non-profit institutions,
Ella Foundation - academic research , training & education .
Krishna & Suchitra Ella Foundation - cultural, health, social & empowerment.
Mrs. Ella is a recipient of many awards for her excellence in entrepreneurship & management, including :
South Indian Business Achievers Award 2016.
Leading Entrepreneur of AP – Felicitation by CM of AP at Narsaraopet Centenary celebrations in December 2015
Zee TV Best Women Entrepreneur Award
ALEAP Entrepreneur Excellency Award
SAARC Women Entrepreneur Award,
GR 8 FLO Women Achievers Award.
She is married to Dr. Krishna Ella, mother to Dr. Jalachari Ella & Dr. Raches Ella, mother in law to Dr. Aditya Chowdary & a loving grandmother to Keshav Rana.
Co- Chairwoman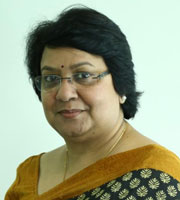 Ms Rumjhum Chatterjee, Co- Chairwoman, CII Indian Women Network (IWN) & Women Empowerment National Committee & Group Managing Director, Feedback Infra Private Limited
Ms Rumjhum Chatterjee is one of the co-founders of Feedback Infra Group. She serves as a Director on the Board of Feedback Infra Pvt. Ltd. and Feedback Energy Distribution Company Ltd. (FEDCO). She is also the Chairperson of the Feedback Foundation Trust.
The Trust is deeply involved in rural and urban sanitation issues, including solid waste management and has successfully implemented several projects across the country through community engagement.
A leading practitioner of the management of human capital in the infrastructure sector, she was recognized as one of the 20 Most Talented HR Leaders in India by the World HRD Congress in 2013.
Ms Chatterjee pioneered the practice of community led interventions for R&R post land acquisition for infrastructure projects. Her paper on 'Sustainable Rehabilitation Interventions through Community Engagement' was published in the India Infrastructure Report 2009, published by 3iNetwork.
Ms Chatterjee served as the first woman Chairperson for CII Northern Regional Council (2016-17) - the largest of the 4 Regions of CII, comprising 9 states.
She has a deep interest in women's empowerment. She served as Chairperson of CII Women Exemplar Program for 2015-17 and has been part of the Jury of the Selection Committee of the same program since its inception. She has represented industry's views on the subject before Parliamentarians in India. She also participated in a closed-door interaction to discuss women's empowerment with Prime Minister of Japan, Mr. Shinzo Abe, during his visit to India in January 2014.
Currently Ms Chatterjee is the Chair of CII's 'Mission on Cities' for 2017-18. She has also been appointed the Co-Chair of a new initiative that CII is spearheading on Gender Parity.
She serves as a member of the Governing Body of HelpAge India and a Trustee of '3E Education Trust' (HDFC Schools).
Ms Chatterjee is educated in Psychology from Calcutta University.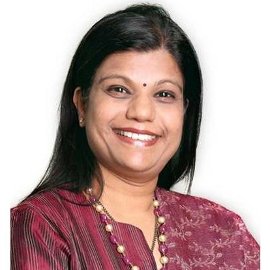 Ms Suchitra K. Ella
Chairwoman, CII Indian Women Network (IWN) & Women Empowerment National Committee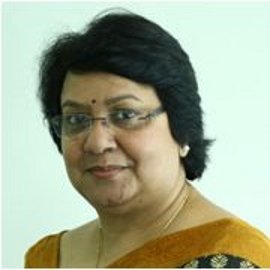 Ms Rumjhum Chatterjee
Co- Chairwoman, CII Indian Women Network (IWN) & Women Empowerment National Committee