CII HAS LAUNCHED
The Indian Women Network[IWN] for Career Women, Professional, Faculty and Students who are ambitious, dynamic and focused women like you !
IWN Organogram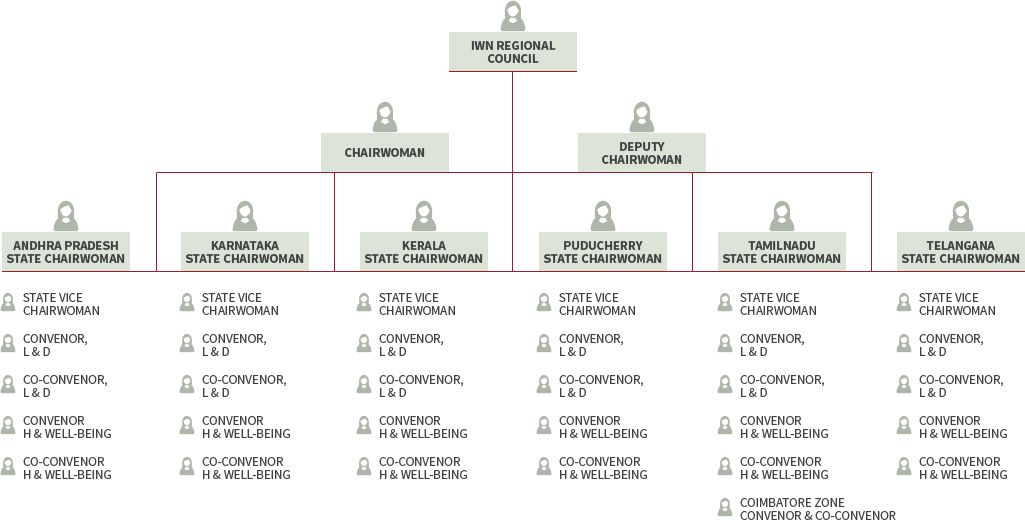 IWN Secretariat Organogram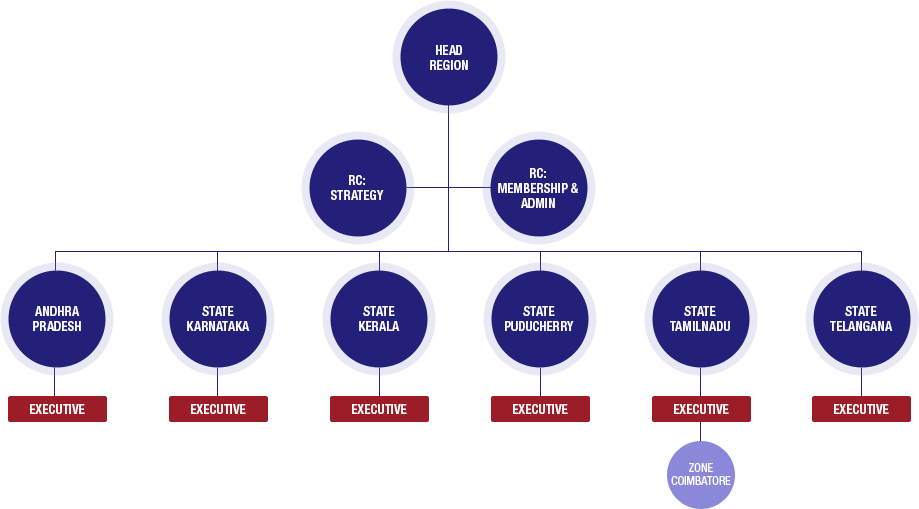 Partners
Premium Partner
Comfort Partner
IWN Leadership
"Today, 30% of workforce in organizations comprises women but they still don't have an appropriate forum to discuss issues that are relevant to them. Through Indian Women Network, we hope to provide a platform for women to discuss issues and opportunities at work places and learn from each other's experiences. We hope that in time to come IWN will become the voice of Indian women"
– G V Sanjay Reddy, Past Chairman, CII Southern Region and Vice Chairman, GVK Power and Infrastructure Ltd
"Let's come together, build together & achieve together for tomorrow's India. IWN will reach out to engage & empower women through various initiatives to augment knowledge, skills & equal opportunity to enhance inclusive growth & economic parity for sustainable development of the country."
– Suchitra K Ella, Past Chairwoman, Indian Women Network (IWN), Southern Region & Joint Managing Director, Bharat Biotech International Ltd
"Our endeavor with IWN is to provide career women, potential career women and women engaged at the grass roots - a platform, a space, a community, they can call their own. We hope that with IWN millions of Indian women will fulfill their destinies of being a miracle and a creator for generations to come."
– Bhairavi Jani, Past Chairperson - Steering Committee, CII Indian Women Network and Director, SCA Group
"I am pleased to applaud the completion of 3 years of IWN! The phenomenal growth of IWN across the Southern Region and its inclusiveness within all CII mainstream activities is a reflection of the leadership and commitment of the IWN Members. The significant interventions from health talks, medical camps, programmes on personal effectiveness, leadership development, mentorship workshops, work career development and policy initiatives have played a large role in the development of women's empowerment."

"IWN is a very active network for creating gender parity and to assist women to face challenges with confidence and self-worth and maintain a healthy work life balance! The tangible and intangible impact created by these initiatives is of immense value not only to women, but to the society at large. I would like to congratulate the IWN Leadership for effectively driving the initiatives during these early years and I am confident that IWN will grow in all aspects into a National CII initiative."
– Ms. Rajshree Pathy, Immediate Past Chairperson, CII Southern Region and Chairman & Managing Director, Rajshree Sugars & Chemicals
"CII's initiative to create an organisation exclusively focused on career women has paved the way towards creating a focused network to deliver value added services for professionals in corporate, entrepreneurs, students, faculty from academic institutions and independent professionals. It gives me immense pride to say that through IWN's many diverse initiatives not only has it provided a learning platform but also offered a growing career curve for its members."

"Personally it has been a pleasure chairing this unique network which is constantly developing to cater to the various issues and provide solutions to the woman professionals of today. I would like to thank our valuable member base that makes us what we are today. I look forward to seeing IWN scale up to greater heights in the years to come with the principle of 'women matter' at our very foundation!"
– Dr R Nandini, Immediate Past Chairwoman, IWN Southern Region & Managing Director, Chandra Textiles Pvt Ltd
"There is no doubt that women are seeing greater opportunities and greater development this decade compared to the earlier times. IWN is that enabling platform for today's career women to pursue their dreams and unleash their potential. IWN works with the Government, Companies & Institutions in accelerating the pace of change required to support the development of women at the workplace. IWN also reaches out to the women, increasing their self-confidence and imparting various programs to enhance their skills and competencies."

"The IWN women members enjoy this unique networking program as they get to meet other career women including women professionals and entrepreneurs and are able to share ideas, challenges and learn from each other in a more open, comfortable atmosphere. I personally enjoy this journey with IWN and it has enriched my life both personally and professionally. I wish more women get to experience this beautiful platform and unleash their potential for their development as well as the development of our nation."
– Ms Anu Sriram, Chairwoman, IWN Southern Region & Co-Founder & Joint Managing Director, Integra Software Services Pvt.Ltd
"It is definitely an esteemed honour to take up the role of Deputy Chairwoman Southern Region for Indian Women Network, as this initiative under the aegis of CII is very close to my heart. Having being involved right from the birth of this wonderful & important organisation, I have witnessed its evolution over the last 3 years connecting a critical element in our Indian Economy- 'The Working Women'. While our Country marches ahead in the coming decades to attain its rightful position of becoming a Global Powerhouse, we must acknowledge the contribution of women when included in all sections & spheres of society. I strongly believe that increased participation of women in the workforce creates a stronger & sustainable economic growth for our country."

"Of course, to reach to that status, the ecosystem will have to create an enabling environment and that is where I feel that Indian Women Network can play an important role in policy advocacy & skill building, so that our nation reaches better global rankings in Gender Parity."
– Ms Vanitha Datla, Deputy Chairwoman, IWN Southern Region & Executive Director & CFO, ELICO Ltd
Chairwoman
Vanitha Datla, Vice Chairperson, ELICO Ltd. Managing Director, Elico Healthcare Services Ltd .


Vanitha Datla is the Vice Chairperson of ELICO Ltd, a 57-year-old company that is a pioneer in the Analytical Instruments Industry, " Innovating to connect Science with Lab" and Managing Director Elico Healthcare Services Ltd, a service provider to the Health-care Industry in countries like USA, UK, Middle East etc. .
The Past two decades has seen her acquiring experience across diverse sectors such as Financial Services, Insurance Services, Cement, Power, Security Printing, Instrumentation & BPO services, with stints in the USA and India .
Education
Chartered Financial Analyst (CFA), ICFAI, Hyderabad.
Post Graduate Diploma in Business Administration (PGDBA), ICFAI,Hyderabad.
Bachelor of Arts (BA), St. Francis College for Women, Hyderabad.
A Bright student all through her academic years, She stood second in her graduating PGDBA class at ICFAI earning a Silver Medal and securing a place on the Dean's Honor Roll for achieving a perfect 4.0 GPA, while pursuing her undergraduate study at Wichita State University in the USA. .
Associations
Chairwoman, Indian Women Network (IWN-CII), Southern Region. 2017-2018 .
Deputy Chairwoman, Indian Women Network (IWN-CII), Southern Region. 2016-2017
Chairperson, Confederation of Indian Industry (CII), Telangana. 2014-2015 & 2015-2016
Vice-Chairperson, Confederation of Indian Industry (CII), Andhra Pradesh. 2014
Board Member, WWF State Chapter, Andhra Pradesh & Telangana
Director on Board, School of Management Studies, University of Hyderabad. 2012-2015.
A Frequent speaker at various professional & academic forums, Vanitha is passionate about Women empowerment & contributing positively to women's issues. Apart from her professional career, she has keen networking skills, which has helped her to be elected in Industry Associations. She has been a member of the CII National Committee on Backward District Development and CII National Committee on Women Empowerment. In addition to serving on the CII HR panel Southern Region, CII CSR panel, AP State, CII Finance & Taxation panel, AP State, Co-Convenor CII Exim panel, AP State, Chairperson CII Women Empowerment Taskforce, AP State. Earlier, she was an active member of the Steering committee on 'Green Homes' .
She also served on the Board of the ICFAI Business School Alumni Federation. She was instrumental in laying foundations & strengthening the Industry- Institute interface for the placement cell at the Engineering colleges of BVRIT & SVCEW under the Sri Vishnu Educational Society. She is the Treasurer of WIN (Women in Network), an NGO that works closely with children & women of urban slums, & was part of the founding team .
An Avid fitness person, she has undertaken many 100kms, 150kms & 200kms bicycle rides and runs long-distances, conquering a couple of full marathons, many half-marathons and a 50km ultra walkathon distances. She has participated & completed many endurance & duathlon events and earned herself the tag of a 'Duathlete'. Trekking is another passion that has led her to visit the Everest Base Camp in Nepal, Mt. Kailash near Manasarovar, Tibet & Mt. Kilimanjaro in Africa .
She had learnt to play the Veena & Piano at an early age and then also dabbled in classical Carnatic vocals & Vedic chanting. Additionally she also enjoys listening to music, reading, spending time with her family & writing articles about her travel exploits, but Traveling remains her true passion & she has traveled around the globe extensively to more than 50 countries.
She has been conferred with "Outstanding Women Award" by Nizam Club, Hyderabad, "Pride of AP (Andhra Pradesh) Award" by Siva Swacchanandha Seva Samastha, Undi, West Godavari, "Mahila Ratna Award" by Sri Kala Sudha Telugu Association, Chennai.
Deputy Chairwoman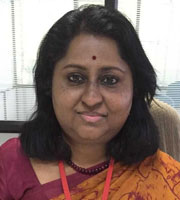 Ms Rina Vivekanandan, Deputy Chairwoman IWN Southern Region & CEO, Vestra Benessee

IWN Regional Secretariat

Ms Siny Maria Skaria, Associate, Region, CII - Indian Women Network
siny.skaria@cii.in
0484 4012300, 9995200742

Ms Lalitha Narayan, Executive, Regional Membership, CII - Indian Women Network
lalitha.narayan@cii.in
044-42444556, 9163280000